The Old Man in the Mirror Isn't Me: Last Call Haiku
Order The Old Man in the Mirror Isn't Me: Last Call Haiku directly from Exile Editions: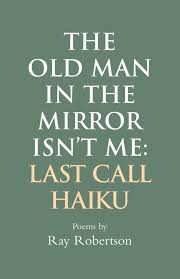 Longlisted for the 2020 ReLit award for poetry
Praise for Old Man in The Mirror
"The language is so mordant, relaxed, flint-chip shapely and edged, I think Sam Spade must have said these haiku first, between gun-butts to the skull, and Robertson channelled them.  They're the alleys, sidewalks, offices, subways of modern Toronto, and they have the Zen poet's reverence for the world as presence of the All ('Sleet storm / Tin roof / Who needs Mozart?'). Their search for a way out only momentarily succeeds, and never ends, but it hovers around ecstasy. 'Gasoline rainbows / Exist / Look!'"
A. F. Moritz, author of As Far As You Can Go and Toronto's Poet Laureate
"A Rob Thomas review in Broken Pencil, of Ray Robertson's The Old Man in the Mirror Isn't Me (Exile Editions), was so intriguing and complimentary that I had to rush off and order a copy.  I wasn't disappointed: Robertson's minimalist poems, or "Last Call Haiku" as they're subtitled, are both vibrant and entertaining.
The author prefaces his collection with an essay called "Why I Am Not a Poet", presumably because he's published eight novels, four collections of nonfiction, and no previous poetry. This essay alone is worth the $18.95 purchase price because it doubles as a self-help lesson for people stopped up with writer's block.
To illustrate, Robertson's depiction of a successful poetry reading can make even the most ill-fated poet feel like a winner: 'You showed up, you hoped there were more people in the audience than there were on stage, and if you were lucky, you might even go home with some beer money.'
In one section where the author sets down his literary influences, he mentions Richard Brautigan in a mostly dismissive manner, but poems such as 'Waiting for the leaves to fall,' 'The world wakes up with a hangover,' and 'In front of the men's shelter an empty beer can' evoke some of Brautigan's basic themes from The Tokyo-Montana Express (1980).
Robertson's strong point is how he suspends moments of time in his micro-poems. An example is this archetypal portrait of a rural Dad, who seems to span the generations:  'My father doesn't need to be happy / To be happy / The first sniff of spring and errands outside all day.'"
-Geist
"A 27-page introductory essay is a curious choice for a book of haiku. Robertson's preface meanders through the bygone used bookshops of Toronto, raises a glass to literature and friendship, and eventually stumbles into some comment on the craft of writing. I loved it, as a bibliophile and former boozer, but I found it a circuitous introduction for a book dedicated to a form staked entirely on spare language and the unsaid. Robertson justifies it as an opportunity to name this project as an experiment for him, a practiced writer but admitted poetry neophyte. The suggestion is that some of the poems are not technically, nor spiritually, haiku — unless, of course, dubbing them so works for you, anyway.
Spoiler: It probably does work for you. The haiku themselves are impacted diamonds, small through either density or subtlety, but either way, undeniably rich. These are modern haiku, urban and gritty, but they seek tenderness. The ennui tries on various symbols and speculations for size. In one poem, Robertson zooms in on a lone sock among a street person's belongings and lingering debris. In another, happiness is whatever occupies a busy body (or is it?), and soon after, a fleeting contemplation over a book left on the bus. Bam, bam, bam, just like that.
The haiku form feels shopworn at times, but Robertson keeps it fresh with humour that never goes sardonic and an unapologetic sauciness. 'A woman taking off her top' is a present, for example, 'two presents.' I recommend skipping ahead to the haiku — which really does speak for itself — and returning to the introduction of the poems to get your appetite up. It's likely."
– Broken Pencil